The Kinesio Taping® Method is a definitive rehabilitative taping technique that is designed to facilitate the body's natural healing process while providing support and stability to muscles and joints without restricting the body's range of motion as well as providing extended soft tissue manipulation to prolong the benefits of manual therapy administered within the clinical setting.
Latex-free and wearable for days at a time, Kinesio® Tex Tape is safe for populations ranging from pediatric to geriatric, and successfully treats a variety of orthopedic, neuromuscular, neurological and other medical conditions. The Kinesio® Taping Method is a therapeutic taping technique not only offering your patient the support they are looking for, but also rehabilitating the affected condition as well.
By targeting different receptors within the somatosensory system, Kinesio® Tex Tape alleviates pain and facilitates lymphatic drainage by microscopically lifting the skin.  This lifting affect forms convolutions in the skin thus increasing interstitial space and allowing for a decrease in inflammation of the affected areas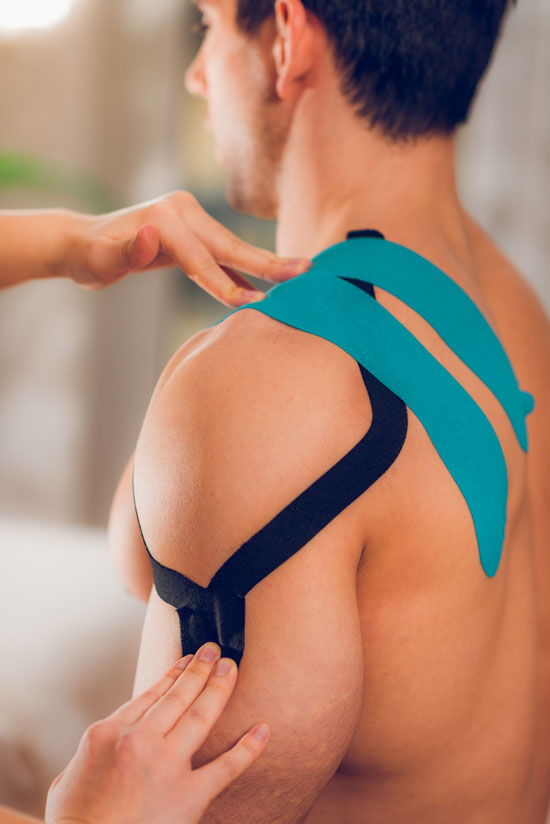 What does Kinesio® Taping and Kinesio® Tex Tape do?
The Kinesio Taping® Method is applied over muscles to reduce pain and inflammation, relax overused or tired muscles, and support muscles in movement on a 24-hour-a-day basis.
The taping is non-restrictive and allows for full range of motion. In contrast, more traditional sports tape is wrapped around a joint strictly for stabilization and support during an athletic event. Kinesio® Tex Tape is used to treat anything from headaches to foot problems and everything in between.
Just a few examples include rehabilitation from sports injuries, carpal tunnel syndrome, lower back strain/pain (subluxation, herniated disc), knee and shoulder conditions. There are many more.
What benefits distinguish Kinesio® Tex Tape from other tapes?
Kinesio® Tex Tape is made of 100% high grade cotton so it is comfortable and breathable. The 140% elasticity mimics the flexibility of human skin and muscles.The adhesive is heat-activated, light, mild and hypo-allergenic, causing less skin sensitivity or irritability than other tapes.
Kinesio® Tex Tape is completely latex-free and the unique wave design keeps it air-permeable as it microscopically lifts skin and channels away moisture. It is also quite durable and comfortable enough to be left on for 3 to 5 days per application. An average of 8 to10 applications per roll of tape makes it economical as well.
Is it the tape or the technique that gives such great results?
Without a doubt, the technique is the key component. However, the full benefits of the technique would not be possible without Kinesio® Tex Tape's continuing development.
The taping method requires a tape that is patient and skin-friendly, possesses optimum elastic qualities, is the same thickness as the skin, and is durable enough to stay on for multiple days, even through sweating and showers.
How is the tape applied?
Without getting too technical, the tape is applied over the affected area with the muscles in a stretched position. Then the tape is applied from one end of the muscle to the other with very little to no stretch on the tape.
In general, the tape is applied from the ORIGIN to INSERTION of the muscle for SUPPORT and from INSERTION to ORIGIN for REHAB. Certified instructors and practitioners are trained to determine which specific techniques will be most effective for individual patients and injuries.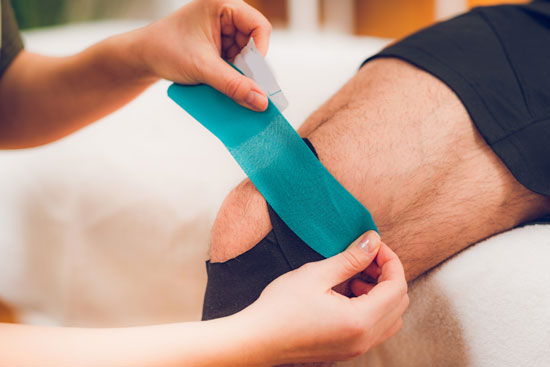 How does it differ from other taping techniques?
There are three main taping techniques recognized in the United States: White Athletic Taping, McConnell® Taping Technique, and Kinesio Taping® Method.
White Athletic Taping is the most commonly used taping technique in the U.S. The tape is extremely rigid and requires a pre-tape prior to application to protect the skin from irritation. Irritation is caused by the entrapment of moisture, high latex content, and severe compression of skin, muscles, and joints. It is typically applied immediately prior to an activity to prevent and protect acute injuries, left on for a short period of time, and taken off immediately after conclusion of activity. There are no rehabilitative uses or benefits.
McConnell® Taping is a bracing or strapping technique using a super-rigid, cotton mesh, highly-adhesive tape (EnduraTape®, LeukoTape®). It affects the bio-mechanics of the patient and is most commonly used for patellofemoral and shoulder subluxation, as well as lumbar, foot, and hip impingement. It is typically left on for a shorter period of time (no longer than 18 hours) due to its constricting and suffocating feel and adverse skin reaction. The technique is primarily used for neuromuscular re-education of the affected condition and is widely accepted by the medical community.
Kinesio Taping® Method is a therapeutic taping technique which not only offers patients and athletes the support they are looking for, but helps to rehabilitate the affected condition as well. Using a highly specific tape design that works with the body, allowing full range of movement– in many cases range of movement will be improved – the Kinesio Taping® Method will not affect the patient's bio-mechanics. Kinesio® Tex Tape is latex-free and safe for sensitive skin and may be used with populations ranging from pediatric to geriatric. There is no compression on the skin, making it "light to the feel" and allowing comfortable wear over a 3 to 5 day period. The water-resistant fabric wicks away moisture and allows the patient to bathe or even swim as usual. Lymph and blood circulation are facilitated in order to rehabilitate and relieve pain. It is used for virtually any clinical condition.
Contact Us
Duluth Multicare, Inc. | Dr. Robert Grace 
3170 Peachtree Industrial Blvd,
Suite 170
Duluth, Georgia 30097
Emergency Number: 404-771-0319
Tel: (770) 497-9700 | Fax: (770) 497-0795
Office Hours - call for appointment times
Duluth Georgia Chiropractor Chiropractors Chiropractic Doctors